Each year in September, Paris hosts DESIGN WEEK for eight incredible days! For this 6th Edition, the city becomes immersed in promenades, cocktails and exhibitions, culminating into the celebration of emerging talents at "now! le Off!"
As it just ended last Friday, we have highlighted the most memorable moments!
1.
During this week, Paris mobilizes five neighborhoods and over 200 spaces: art galleries, showrooms, museums and concept stores who participate and share their passion for design. "Promenades" and Design itineraries are organized in the trendiest spots.
Interior Designers, Architect offices and concept stores share their knowledge to boost your inner creativity! Plenty of workshops and DIY sessions are open to the public.
Great Co-Working spaces are available for design-related talks and conferences.
Here, a reinvention of the workspace as a cross between a boutique-hotel, an art gallery and a theater set.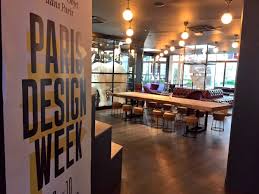 The now! le Off is an exhibition held at Les Docks – Cité de la Mode et du Design and has become a major springboard for designer creativity. It presents the New Design Talents and Emerging Design Brands from around the world and provides a space open to young design and the avant-garde.
20 nationalities were represented with several foreign delegations taking to the stage throughout the city.
This year, China, Ukraine, Estonia with Finland, Flanders, the Czech Republic, Lithuania and Denmark all took part in the eight-day celebration that turned Paris into the international capital of design.
The design event of the season turned Paris into a citywide treasure hunt called "House of Games" where you could step into the game, world full of signs, shapes, colors and tales, to reinitiate the creative mind. The playfulness is fed by the aesthetics of board games: chessboards, pawns, playing cards, dice, dominos, tarot, etc.
THE RADO STAR PRIZE
Rado is a competition supporting young creative talent. It also takes place at the heart of "now! le Off" in the riverside complex Les Docks - Cité de la Mode et du Design. It aims to bring together the best creative inspirations from the younger generation of designers. Those are some of the finalists designs.
The jury of the Rado Star Prize France has named the winner of the Rado Star Prize France 2016. This year the prix du jury went to Elodie Rampazzo, a talented young designer who impressed the jury with her project entitled "Nomade."
It was such a wonderful experience and we look forward to all that is to come for this exciting event again next year!