Published on Wayfair.com We caught up with Marie Burgos of Marie Burgos Design in New York and chatted about this gorgeous loft space. She gave us the scoop on the history of this 1895 warehouse turned upscale residence. Keep reading to see how she used Feng Shui principles to bring a feeling of calm to this open concept space.
1. What were you trying to accomplish with the design of this project? The main objective for the space was to mix function with a stunning design that highlights the building's original charisma. The open floor plan transformed the home into a modern Tribeca city lifestyle haven, which revolves around entertaining, relaxation, and working. The design also highlights the stunning architectural features.
2. Can you talk about the history of the building? Established in 1895 as a warehouse for the spice trade, 481 Washington was built to last. With its 25-inch-thick base and enchanting Beaux Arts facade, this regal structure later housed a thriving Hudson Square printing company. After an impeccable renovation, the magnificent loft building's original arched windows and exquisite cornice remain a testament to the grandeur of days past. Perfectly anchored between Soho and Tribeca, Spice Warehouse has been converted into 12 spacious full-floor lofts that seamlessly fuse old-world character with modern convenience.
3. What was the inspiration for the project? The inspiration blossomed out of the building's history and charm. A tailored, old-world look was the perfect fit to harmonize with the existing features.
4. How did you choose the color palette? I opted for a neutral color palette to establish a peaceful and cohesive space. The color palette also creates the perfect platform to highlight the incredible original brickwork, exposed wood beams, and iron columns.
5. What is your favorite part of the project and why? It is always hard to pick a favorite part of a project since each element is important to the overall energy of the space, but I think the living area of this space is extra special due to research behind each furniture piece and accessory. Since the building was oozing with industrial appeal and a rich history, each item of decor needed to tell a story of its own. For instance, an oversized mirror was handcrafted out of salvaged wooden boat planks, the Indonesian coffee table is full of detailed charm, and a traditional milking stool has been repurposed as a side table.
6. There are a lot of natural elements. What was the inspiration behind those choices? The natural elements throughout the design support the philosophy of Feng Shui, where it is believed that water, wood, fire, earth, and metal create an impact on one's life and must be present to promote balance and harmony. Within the living space water is represented by the mirror, glass table top, and artwork; wood is found in the chairs, side tables and driftwood accessory; the rustic antler candelabras and shapes on the cowhide rug and pillows speak for fire; the brick wall contributes to earth; and the horse head sculpture and iron clock display metal.
7. What are your tips for someone trying to recreate the look of this project? Focus your efforts on gathering extraordinary furniture and decor pieces that are full of character to anchor the design. Create a flowing and open floor plan that is free of clutter to ensure the proper circulation of Chi energy. Balance the opposing forces of yin and yang. For example, balance yang items such as wood coffee table or a brick wall, with yin items like soft throw pillows, plush rugs or flowing curtains.
8. What is your favorite designer trick? Utilizing Feng Shui in all of my designs is my fail-safe designer trick. Through its principles I extract and activate the best potential energy in the home which in turn activates the client's positive energy, leading to a happy and prosperous life.
9. Finish the sentence: Every room needs _______. Balance and harmony.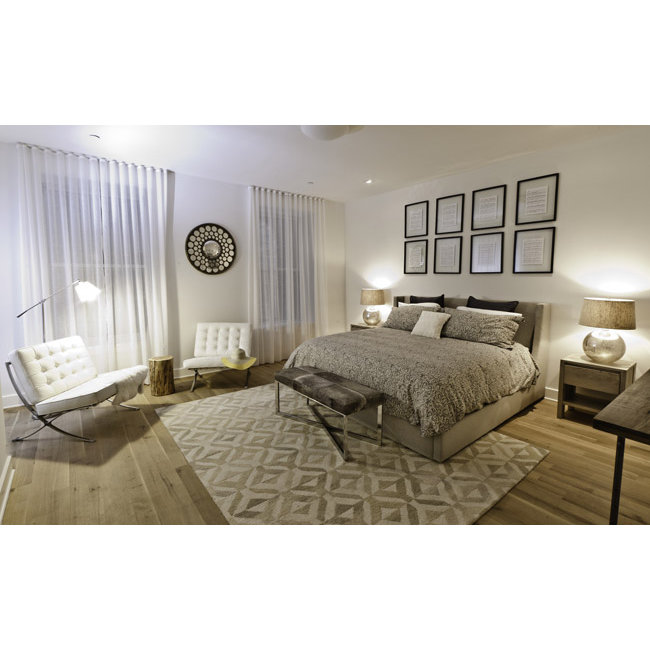 10. How would you describe your aesthetic? I would describe my design aesthetic as a mix of contemporary and transitional.
11. What is your best piece of advice for someone who is redecorating their home? I would suggest that the individual start by making a list of the needs they have for the space and then collect inspiration images that reflect the look and feel they wish to achieve. Essentially this research becomes a mood board for the room and can help keep the design on track. 
See more from Marie Burgos Design in our Shop the Look gallery.